3 Tips for a DIY Travel Season
It's early October (in 2019). You're packing up your life, heading to Starbucks or Dunkin' to get your 29th Pumpkin spiced something while listening to (insert podcast name here). It's travel season.
As admission professionals we love to love…and hate travel season. In showing my age, our Facebook status with travel season typically is "It's Complicated." But like many things we have experienced in Covid-19, once you take it away, we really miss it.
So, in a year with little to no traveling, no guarantee that we get it in the Spring and a severe case of cabin fever in our offices, how can we replace that feeling while we are socially distancing? Here are my top three ways to give yourself some travel season without having to live out of your suitcase….. unless that is your kind of thing.
1.       The Zoom Happy Hour- Look, I know, zoom meetings are getting to all of us, but, we should be thankful that we have the technology to be able to meet with people across the country in a way we can see their face, and what a better way to meet than over a drink or coffee. We all have our road buddies that we eat dinner with, or go out after a fair with that we miss. So reach out to them, share a meal even, and get a chance to catch up. With Zoom backgrounds you can all order takeout from the same place and just put a generic background of said restaurant. See example 1. Me eating alone at Chili's…. we've all been there.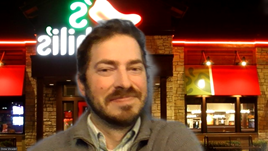 2.       Work from a hotel- As a kid my family would just stay at a hotel in town every once and awhile. Now they are staycations, back then they were, "Cool a pool!." But at Cornell we are offering a week-long stay at a hotel for our counselors to be able to get out of their house for a bit, enjoy those multi-thread sheets and covers and to work in their territory for a bit. This is optional to each person, but could at least give a small bit of normalcy to the travel season while also giving them some time away from the same four walls they've been staring at for the last seven months.
3.       Have the Travel Season Olympics- There are so many pieces to college fairs that we do as admission professionals. Packing our travel bags, setting up the table, struggling to fold a giant table banner, or better yet, struggling to make a giant table banner fit a table a quarter the size. So, have some fun with this with your staff. While many may still be working from home, those of you back in the office can do this safely. Create 3-5 different games, and award the top three finishers a prize. Games could be: here are the things to pack in your suitcase, the fastest one to pack it wins, who can fold the table banner the neatest and fastest, how high can you stack materials or pens. You can even all bring in donuts and everyone eat it as quickly as possible before reciting the general info about your college.
However, you choose to give some semblancy of normal in your office during this month, I think the main idea is to take a break from the work we are all doing in our office, have some fun, and forget about all of the worries for a bit. All while social distancing, of course.
Now excuse me while I binge on Dunkin' pumpkin munchkins, play a Michael Bublé album and pretend I'm in a Starbucks working.
Share this post: